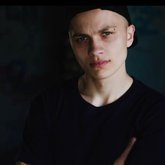 Vlad Bojko
City: Dnepr Black
Career start: 2020 y.
Current VeAn artist
Features:
Certified

Member of the tattoo association
Styles:
Realism
Graphics
Minimalism
Blackwork
Trash polka
Information:
My name is Vlad) I am a master tattoo artist in the VeAn network.
I really like making history, creating art and investing a part of myself in people who really appreciate beauty. In the process of immersing myself in the work I get a lot of positive emotions and get inspired for new cool projects.
You have an opportunity to feel what it is like to be a client of VeAn studio.