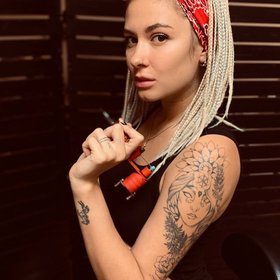 Anastasiya Kurchij
City: Irpin
Начало карьеры: 2019 г.
Сотрудничество с мастером прекращено
Особенности:
Certified

Member of the tattoo association
Услуги:
Art Session
Tattoo Cover up
Correction
Training consultation
Tattoo
Sketch design
Стили:
Minimalism
Linework
Dotwork
Graphics
Realism
Chicano
Biomechanics
Old School
Trash polka
New School
Japanese
Handpoke
Lettering
Geometry
Информация:
Hi! I'm Anastason, a tattoo artist who has the beauty of an indelible design in her hands.
I learned about and became interested in tattoos back in 2007. I fell in love with this industry immediately, but because of the prejudice: "You have to get a higher education", I did not start my journey. But as the saying goes, "It's never too late." Because of my perseverance and love for this art - I gave up EVERYTHING to take the plunge and start learning it.
I've been in art since I was a baby (I have an art degree under my belt).
⁃ In the tattoo industry since March 15, 2019 (certified master). Passed not a few training courses to improve my skills.
⁃ I always strictly observe: sanitary standards, disinfection of the workplace, equipment.
Provide an individual approach to each client, help with the selection of the sketch and location.
- I work in any style: from a small inscription, to the sleeve.
Do not work in the styles: tribal, black work.