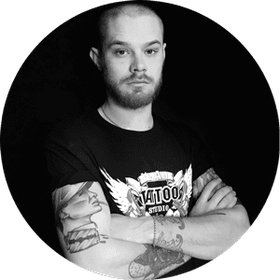 Oleg Grinenko
City: Kremenchuk
Начало карьеры: 2016 г.
Current VeAn artist
Features:
Certified

Member of the tattoo association
Services:
Татуировка
Разработка эскизов
Styles:
Традишнл
Нео-традишнл
Олд скул
Нью скул
Лайнворк
Минимализм
Реализм
Чикано
Биомеханика
Треш-полька
Дотворк
Блэкворк
Акварель
Графика
Японский
Хендпоук
Леттеринг
Information:
My name is Oleg, I'm a tattoo master at VeAn Kremenchug studio! By the way, this is where I did my training course. I've been working in this studio for quite a long time. If you possess such styles as: old school, neo-traditional, new school, Japanese style tattoo, realism - then you just to me! If you also adore individual crazy sketches, I with great pleasure will create them) I draw always and everywhere, as soon as there is a free minute. I have had a thirst for drawing since childhood, and in adulthood I decided that it was already boring to draw on paper, and it's time to move on to something more! And so began my training, and in the future work in the field of tattooing.
To all my colleagues I wish more tattoos, both on the body, and on the clients) Bright colors, juicy works and eternal machines) To all goodness and tattoos!