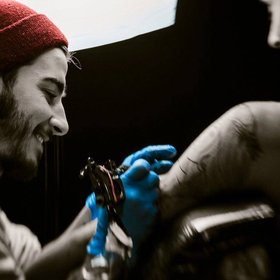 Oleg Rudenko
City: Kiev "Center"
Начало карьеры: 2016 г.
Действующий мастер VeAn
Услуги:
Tattoo
Разработка эскизов
Татуировка
Обучение мастеров
Стили:
Японский
Нео-традишнл
Графика
Нью скул
Реализм
Биомеханика
Дотворк
Олд скул
Традишнл
Хендпоук
Информация:
Hi, my name is Oleg.
I am a tattoo artist from the city of Berdyansk. Experience more than five years.
I work in the following styles: neo-Japanese, neo-trad, newskul, graphics. I beat tattoos mostly by his designs, I do not like to steal designs from other artists.
I prefer big, oriental designs and want to form a portfolio of them. I think it is large tattoos that best emphasize the peculiarity and individuality of the body. Also always happy to do something very symbolic and meaningful.
If you want to create something special for yourself I invite you to a consultation🔥