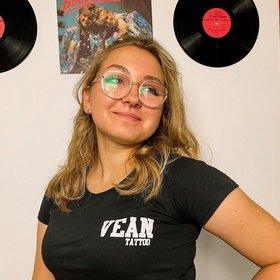 Mariya Kadurina
City: Sumy
Начало карьеры: 2019 г.
Current VeAn artist
Features:
Certified

Member of the tattoo association
Styles:
Минимализм
Реализм
Дотворк
Нью скул
Акварель
Леттеринг
Realism
Dotwork
Minimalism
Lattering
New Skool
Japanese
Graphics
Old School
Watercolor
Geometry
Information:
I have been painting since childhood. But routine eats away at me and when the paintings became boring, I decided to transfer the art to people's bodies.
While taking a course at the Van Tattoo Studio, I fell in love with the staff and decided to stay here. I love the environment that surrounds me. Every day I am charged with positivity and inspiration.
I invite you to our studio. Immerse yourself in this atmosphere and become part of our art.